Dr. Victor Udo is a Nigerian born USA trained transformational leadership executive with significant passion on climate change mitigation for global sustainability. He has a strong background and experience on sustainable development and electric power/utility industry in both the public and private sectors.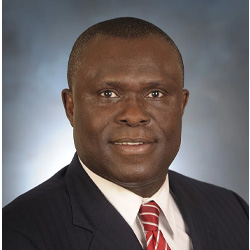 Energy, Sustainability and ESG Executive with 20+ years' experience of championing deployment of innovative processes and investments. Has implemented strategies that resulted in cost savings and increased revenue generation, while enhancing environmental, social, and governance (ESG) impact along with diversity, equity, and inclusion (DEI) policies. Electric utility and sustainability strategies include renewable energy, storage, electrification of transportation, decarbonization, decentralization and digitalization of assets with IoT, Blockchain and AI. A published author, has assisted organizations such as Pepco Holdings to manage a $2B risk portfolio. Held a CEO position of a 200+ employee company with a license for 700 MW power plant. Appointed by eventual Senator Chris Coons to a Planning Board in Delaware and by the New Jersey Governor to the Renewable Energy Task Force as well as assisting Governments in Africa. Passionate about corporate governance and executive oversight with engineering, public policy, sustainability, ESG and DEI acumen for risk mitigation and impactful value creation results.
Core Competencies and Passion
• Planning, Budgeting & ROI Analysis
• Strategy & Innovation Consulting
• Decarbonization & Decentralization
• Corporate Governance & Due Diligence
• Waste Reduction and Ecological Vitality
• Engineering, Safety & Resiliency
• Environment, Social & Governance (ESG)
• Energy Efficiency & LEED Certification
• Project & Process Management
• Public Policy & Sustainability Expertise
• Risk and Performance Management
• Diversity, Equity & Inclusion (DEI)
• Digitalization Technology Implementation
• Team Building & Leadership
• Mergers/Acquisitions &Negotiations
• Joint Venture/Capital & Start Ups
Bringing Sustainability to Every Company & Country!
My team and I are focused on bringing sustainability solutions to every company, organization, and country we work with. From sustainable leadership to sustainable energy, we are your go-to sustainability consultants!